Photo make-ups - January 5th. Students in the building will be called down. Hybrid and virtual students - please come to Juniata H.S. that day from 8:45 AM to 11:00 AM. Report to the auditorium. You must wear a mask to come in the building. You will remove the mask for your photo. If you want to be in the yearbook this year, you must have your photo taken that day. You may purchase photos. I have attached an order form (ignore the date on it). You will receive a photo ID (not that day) and get your photo in the yearbook. Email Mrs. Storey (
sstorey@jcsdk12.org
) if you have questions.
Dear JCSD Families: At this time the JCSD is committed to reopening our schools on January 4, 2021 with the 4-1 plan. We feel that our students need to be back in school as soon as safely possible. Please keep in mind that depending on the most recent county infection data and number of staff quarantined or infected, we may need to alter the timing or the way we reopen our schools. Any changes will be communicated through our school calling system and posted on the district website. Moving forward, the district will try to react to active COVID cases, or staff shortages at the building level and avoid shutting down all school buildings, if possible. The criteria we will consider for these decisions can be found on the PDE website here:
https://www.education.pa.gov/Schools/safeschools/emergencyplanning/COVID-19/SchoolReopeningGuidance/ReopeningPreKto12/PublicHealthGuidance/Pages/SchoolClosureRecommentations.aspx
If in the event a school has to close, other models such as 2-2-1, may be implemented in order to reopen. This will be announced by the district administration. Also, if your child has tested positive for COVID-19, is awaiting test results, or has been in close contact with someone who has tested positive for COVID-19, please keep your child home and contact your school nurse who will help determine quarantine dates. JCSD Administration
JCSD Families: We will again have meals available on the following dates: Tuesdays, December 15, 22 and 29 between 2:15 and 2:45pm. We are able to provide a free breakfast and a free lunch each day to all children 18 years and younger, regardless of lunch status. If you have registered for previous meals you do not need to do anything. If you have not received meals and would like to pick up on the remaining days, please email Chris Ammon at
cammon@jcsdk12.org
The Juniata County School district wants parent feedback on how we can improve remote learning . Here is a survey for parents of JHS students.
https://forms.gle/WBgVGUEMyE5EovkY8
FAFSA Completion Assistance: Students who are planning on pursuing any post-secondary schooling upon graduation, you will need to complete the Free Application for Federal Student Aid (FAFSA). Tiffanie DeVan (PHEAA Representative) is willing to work individually with students and/or parents/guardians. She can set up a zoom meeting and work with you one on one or she can talk with you on the telephone if you have specific questions. She can be reached by email:
tdevan@pheaa.org
Business Cell: 717-884-2200
Yearbook Info. for Grades 6-11... Yearbook orders are due December 18th. Order forms can be found in Google Classroom in the class that is set up for the student's grade level or at the high school. You may drop orders off at Juniata H.S. or mail them to Juniata H.S. attention Mrs. Storey.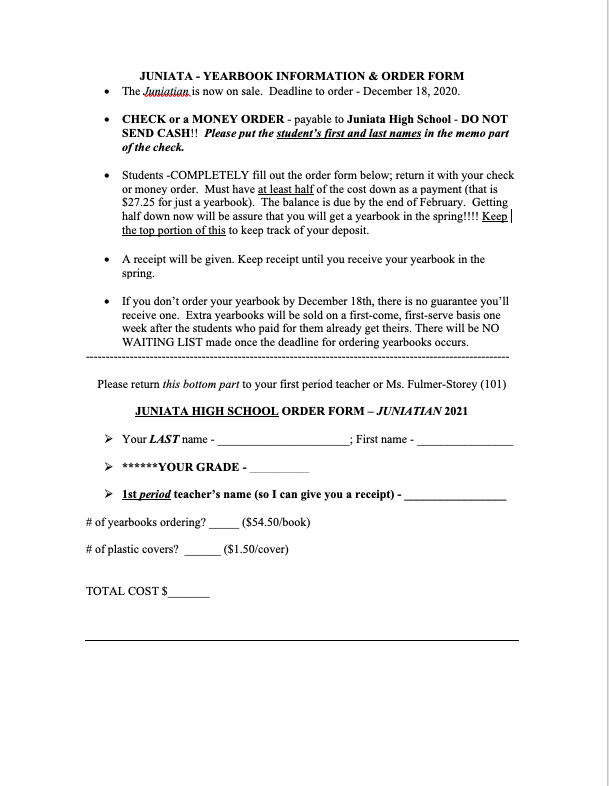 SENIORS - Yearbook Information!! Yearbook orders are due December 18th. Order forms can be found in Google Classroom in the class that is set up for the student's grade level or at the high school. You may drop orders off at Juniata H.S. or mail them to Juniata H.S. (Attention: Mrs. Storey).
To our faculty, staff, and students, and families - we hope you have a happy Thanksgiving! Click the link to watch the JCSD video of the "A,B,C's of Thanksgiving". Stay safe!
https://youtu.be/SoWlMFhHYuk
Secondary Students and Families: You are required to sign in to Sapphire by 8:30 am for attendance (regular Hybrid students should continue to fill out the form), and you must attend class Zooms and submit course work every day. Students check your email and Google Classroom every day. Although the work you completed in the Spring was not graded, please remember that all assignments during our remote learning days ARE expected to be completed and will be graded. Please remember that if you aren't able to log in and participate because of illness, send an excuse to the secretary, just as we do during normal attendance. Any manner of submission to us is fine - email, mail, in-person, etc.
To any seniors who still need their pictures taken for the yearbook: Senior make-ups are tomorrow at Juniata H.S. If you did not have your photo taken the first time, check your email. Mrs. Storey sent you an appointment time. Remember to dress appropriately!
Juniata County School District and Metz Culinary Management will again offer the option to families for bagged breakfasts and lunches on Tuesday, November 24, 2020. If you had signed up for meals this past Tuesday you do not need to sign up again. If you need to opt-in for meals next week, email Chris Ammon at
cammon@jcsdk12.org
before 5pm Friday, November 20, 2020. You will have a breakfast and a lunch for each child for each day of school to be picked up on Tuesday between 2:15- 2:45 PM in the parent pick-up line at your school or in the parking lots at the following locations: former Lack Tuscarora Elementary, former Tuscarora Valley Elementary, former Thompsontown Delaware Elementary, former Fayette Elementary and the Susquehanna Township Building. If you are unable to pick up the meals at this time, you can call your child's school and make arrangements with the Food Service Staff to schedule a time between the hours of 8:30 AM and 2:45 PM. Please email Chris Ammon at
cammon@jcsdk12.org
to let us know your interest in taking advantage of this option along with your child's name. The sooner we are notified of your interest, the sooner we can get these meals out to your child(ren).
Week of 11/16/20 Instructional Plan for Secondary Students at JHS: Attendance will be done by logging into Sapphire by 8:30 am each day. Hybrid students will continue to fill out the form by 8:30 am each day. Mon., Wed., Thurs.: Students follow their regular daily schedule by participating in Zoom lessons with their classroom teacher each period. Teachers are required to Zoom each period and need to record their Zoom. If students experience technical issues, they can watch the recorded Zoom. Tues. & Fri.: Work days for students to complete assignments. No Zooms required for teachers unless they have information to share. AP, Dual Enrollment, Advanced Classes: May need to Zoom every day – teachers will share their expectations with these classes. Students should check their student email and Google Classroom daily. Teachers will be available via email or requested Zoom meetings from 8:00 am – 3:15 pm.
JCSD Families: Due to an increase in COVID positive cases in our community we will be offering Parent Teacher Conferences only via phone or virtual platform. Teachers will be in contact to confirm which method is preferred. Please find the recent letter to families regarding additional COVID positive cases here:
https://www.jcsdk12.org/o/jcsd/page/covid-letters-to-families
Student picture makeup day will be at school on 11/16/2020 to photograph fall pictures. Attached is a bulletin board poster and digital version of your order envelope/flyer. Please post these items on your website to advertise your picture day. Also included below is a link to post on your website:
https://strawbridge.fotomerchanthv.com/clients/juniata-high-school/fall-retake-pictures-11-16-2020-5/optIn
This link will allow parents to sign up to receive updates via email regarding their child's school portraits. These updates include promotions, additional deals and the ability to order more pictures at a later time. When entering student information, parents should be sure to enter the student's name as it is on file at the school.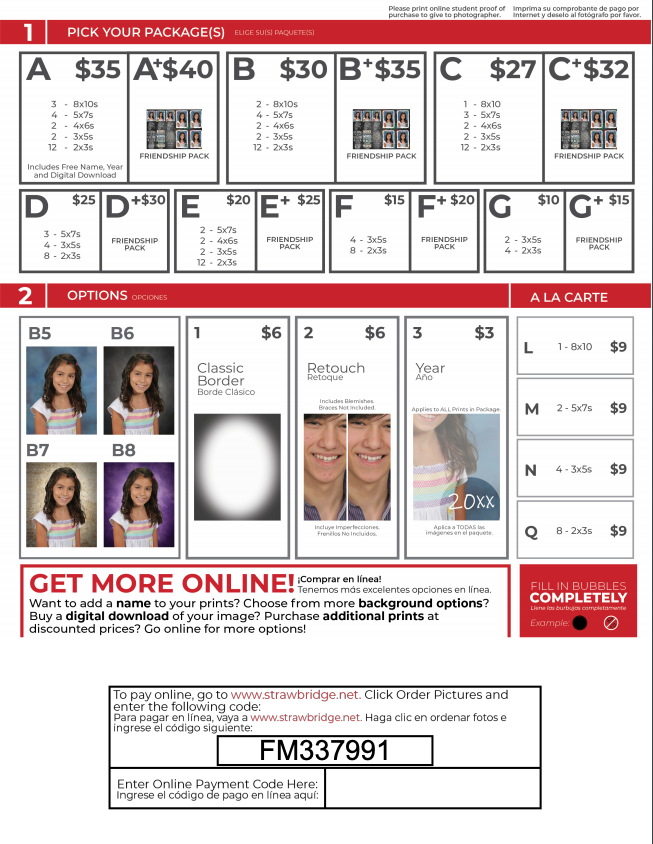 Parent Conferences are Nov. 10. Today a form will be sent home with students for parents to arrange an appointment. This year parents can choose to have their conference remotely via zoom. Parents of Hybrid students should contact the office to make appointments.
FAFSA Workshop Join us for a virtual FAFSA Completion Workshop conducted by PA Higher Education Assistance Agency (PHEAA). This workshop provides an in-depth look at the Free Application for Federal Student Aid (FAFSA®), the primary application that students must complete to be considered for most forms of financial aid. Participants will learn how to complete the FAFSA® as well as receive tips on how to answer the most frequently asked questions. In addition, please see the attached document, which will also assist with completing the form. Date: 11/7/2020 Time: 10 a.m. -12 p.m. Link to register:
https://pheaaconf.webex.com/pheaaconf/onstage/g.php?MTID=edf4e633b33e4e4764698c046ac9dcdd3
Sophomores were given class ring information today. Any hybrid/virtual student who would like an informational packet can pick one up in the office.
Don't forget Monday October 5 is picture day! Please remember your form.